I'VE SEEN FILMS RETROSPECTIVE DURING THE 'PIEMONTE MOVIFEST' EVENT IN ASTI-SAN MARZANOTTO FROM JULY 26 TO 28
A social awareness - but not only - retrospective, with more than 30 films selected out of 15,000 received from 103 countries, spanning the last 5 years of the 'I've Seen Films' Festival. The selected works will be screened for the first time in the Asti territory, in digital high definition, during the 'Piemonte MoViFest' event that will take place in Asti - San Marzanotto hamlet - from July 26 to 28, 2013. All films will be screened in HD Digital Cinema Quality, in their original language, with English and/or Italian subtitles to suit Italian and international audiences. Entrance is free for all screenings, subject to seat availability. More ...



THE 2012 WINNERS AND PHOTOS OF THE INTERNATIONAL COMPETITION
The Gala Award Evening took place on Friday, October 19 in a fully packed 'Merini Hall', located in the Spazio Oberdan Theater, which was kindly set at the festival's disposal by the Province of Milan. The attendees included an audience comprised of authorities and international artists. More ...

2012 FESTIVAL'S SCREENING PROGRAM IS ONLINE WITH MORE THAN 100 FILMS SELECTED FROM 103 COUNTRIES !
With more than 100 films selected from over 4,000 received from 103 countries, the I'VE SEEN FILMS International Competition provides one of the largest and more innovative celebrations to film and culture.
We would like to thank all the authors who have so enthusiastically accepted the challenge, and sent their works to I've Seen Films. Thanks to all of you!
This year's competition categories encompass feature films and short films, as well as these special sections:
Social Awareness;
Art e-Motion, dealing with themes and images from Arts, such as painting, sculpture, theater, poetry and literature;
Green Eye, dedicated to energy, environment and sustainable development issues, organized in cooperation with CiAl - The Italian National Consortium for Aluminum Packaging Recycling and Recovery.
I'VE SEEN FILMS 2012 will also host a section dedicated to Film Schools in cooperation with Fondazione Centro Sperimentale di Cinematografia - Lombardy Branch. More ...

BLADE RUNNER: THE NEVER-ENDING FUTURE
Milano, October 18, 2012 - 10.00 - Centro Sperimentale di Cinematografia - Lombardy Branch - Viale Fulvio Testi, 121 (ex-Manifattura Tabacchi)
With Rutger Hauer
"I've seen things you people wouldn't believe…''. On occasion of Blade Runner's 30th Anniversary, an encounter with the world's most famous replicant in film history.
Event planning by PierPaolo De Fina

SECTION DEDICATED TO FILM SCHOOLS IN COOPERATION WITH CSC LOMBARDY BRANCH
I'VE SEEN FILMS 2012 will also host a section dedicated to Film Schools in cooperation with Fondazione Centro Sperimentale di Cinematografia - Lombardy Branch. More ...

FILMS WITHOUT BARRIERS
In an agreement between 'Microcinema' and 'I've Seen Films', the festival dedicated to independent filmmakers arrives via satellite in the theaters of the Microcinema Digital Network. More ...

2011 WINNERS AND PHOTOS OF THE INTERNATIONAL COMPETITION
Full house and prestigious guests at the Awards Ceremony in Milan's Gaber Auditorium (Pirelli Skyscraper) More ...

2010 WINNERS, PHOTOS AND VIDEO OF THE INTERNATIONAL COMPETITION
Full house and prestigious guests at the Awards Ceremony in Milan's Royal Palace. More ...

VIDEO
I'VE SEEN FILMS 2010 GALA AWARD EVENING VIDEO

I'VE SEEN FILMS 2009 INTERVIEWS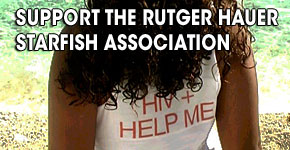 Rutger Hauer awarded the winners during the Award evening gala, which was a a real tribute to the film authors and Festival's guests.

The 2012 WINNERS

I've Seen Films - 2010 Gala Award Evening VIDEO

The Festival CATALOGS Watch Rutger's I'VE SEEN FILMS PROMO

I'VE SEEN FILMS was founded by Rutger Hauer with the aim of promoting and uniting filmmakers, offering them new exposure and fresh and innovative platforms of visibility, where filmmakers are able to face each other on the common ground of the film language.

Bill Bristow (UK), Joan Chen (CINA), Jason Eisener (USA), Rossella Farinotti (ITA), Robert Harmon (USA), Valerio Moggia (ITA), Giuseppe Pizzo (ITA), Robert Rodriguez (USA), Gino Schiona (ITA) and Rutger Hauer are members of the 2012 International Jury.



The 2012 edition took place in the Centro Sperimentale di Cinematografia-Lombardy Branch, the Institut Francais of Milan, and the Spazio Oberdan where the Gala Award Evening was held on October 19. Masterclasses and film events had, as usual, completed the Festival's enticing cultural offerings to film lovers.

This new-concept platform creates a new opportunity for filmmakers and offers the largest possible artistic choice to audiences all over the world.

I'VE SEEN FILMS, thanks to its original and innovative formula, has some unique components which make it stand out as an unparalleled cultural event.

It is one of the few film festivals in the world that has been founded and is directly managed by an international artist. Its main purpose is the promotion on a world-wide basis of the works of filmmakers who deserve exposure and visibility for their works but rarely achieve this from the classic-formula film festivals.

This is the first festival in which the short film competition is judged by an International Jury formed by so many notable artistic talents and experts of the film sector. It marks a turning point in this field.

The Festival's official language is English, which allows films authors and international attendees alike to overcome the obstacle represented by multi-ethnic language barriers.

Starting from the 2008 edition, the authors' works have been screened, for the first time ever during any short film festival, in a masterfully high-definition digitalized version. This is an important aspect that is quite uncommon in this field since it requires highly professional technical knowledge. This format garners enthusiastic praises from audience and film authors alike.

The impressive Gala Award Evening, in which Rutger Hauer personally awards the winners, represents a very special moment for the authors who, together with their works, become the Festival's real protagonists.

This new formula represents a merger of the best classic film festival traditions with the most advanced high-definition digital technology.

This has been a crucial challenge, proudly achieved since the very first edition.


I'VE SEEN FILMS - International Film Festival
ORGANIZATION: The Rutger Hauer Starfish Association
Executive Director: PierPaolo De Fina
President: Rutger Hauer
Artistic Directors: PierPaolo De Fina, Fabrizio Trisoglio
Artistic Director Film Schools section: Giancarlo Zappoli
Organization Director: Fabrizio Trisoglio
PR and Communications Director: Caterina Buldo
c/o The Rutger Hauer Starfish Association
email: icfilms@rutgerhauer.org

Press Office:
I've Seen Films - PierPaolo De Fina

The following people are cooperating:
Federica Annoni, Andrea Bauce, Riccardo Desantis, Ndongo Hyacynthe Lypart, Paolo Gabbiani, Alberto Grasso, Alessandro Grasso, Elena Garavaglia, Deborah Lepri, Francesco Messina, Valerio Moggia, Emanuele Ogliari, Cristina Oneta, Francesca Pontara, Olivia Ronchi, Irish Saddi, Viviana Tudisco, Roberta Verde, Luca Zanovello.